Lyon Tech's SpamCat e-mail filtering service is unlike other solutions that have to be installed on your local desktop or server to filter email. The SpamCat service is positioned between the Internet and your corporate network. Therefore, SpamCat is able to stop spam and email viruses before they ever reach your company's computer network.
All incoming email is routed through Lyon Tech's secure data center and scanned by our spam filtering servers. Each email is scanned and filtered using a very complex set of filters that look at the message content as well as where/who the email was sent from. These processes are done in an automated environment that prevents anyone from viewing or intercepting valid email.
Lyon Tech's engineers constantly monitor evolving spammer tactics to ensure customers have the most accurate and effective spam filtering possible. All of Lyon Tech's spam filters are updated on an hourly basis to ensure accurate results.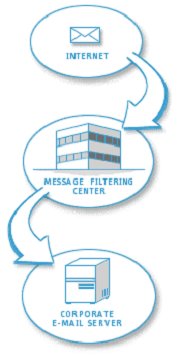 Each INBOUND email message is checked for:


Keywords - Common words or phrases that are known to be associated with spam or viruses.


Falsified Headers - Spammers will usually falsify the "envelope" information on their messages in an attempt to hide their identity.


BlackLists - Databases of confirmed known commercial spammers or insecure mail servers.


WhiteLists - An internal list of trusted email addresses or domains.


Viruses - To eliminate the risk of damage or exploitation of your network resources.


Heuristics - Artificial Intelligence considers all factors to make an informed decision.
SpamCat's INBOUND Responses:


If an inbound message is found to contain a virus or is certified as spam, the message is rejected entirely, and will never clutter up your inbox.


If an inbound message looks suspicious, SpamCat will forward you the message, wrapped within a warning message, so you can instantly identify and delete suspicious messages before you ever open them.


If an inbound message is certified as "clean", you will receive the message untouched.
Each OUTBOUND email is checked for:


Viruses - To protect your professional reputation and to reduce the spread of dangerous emails.


WhiteLists - Whenever you send a message to someone, SpamCat will then trust future messages sent to you by that person, reducing the likelihood of a "false positive".
SpamCat's OUTBOUND Responses:


If an outbound message is found to contain a virus, it will be cleaned, and a warning message will be returned to the internal email sender to let them know they have a virus infection.


All other outbound email is sent untouched to it's intented recipient.
Call us today at (877) 596-5966 to learn more about SpamCat or to sign up! In less than 24 hours, your company's email will be clean, secure, and productive again!